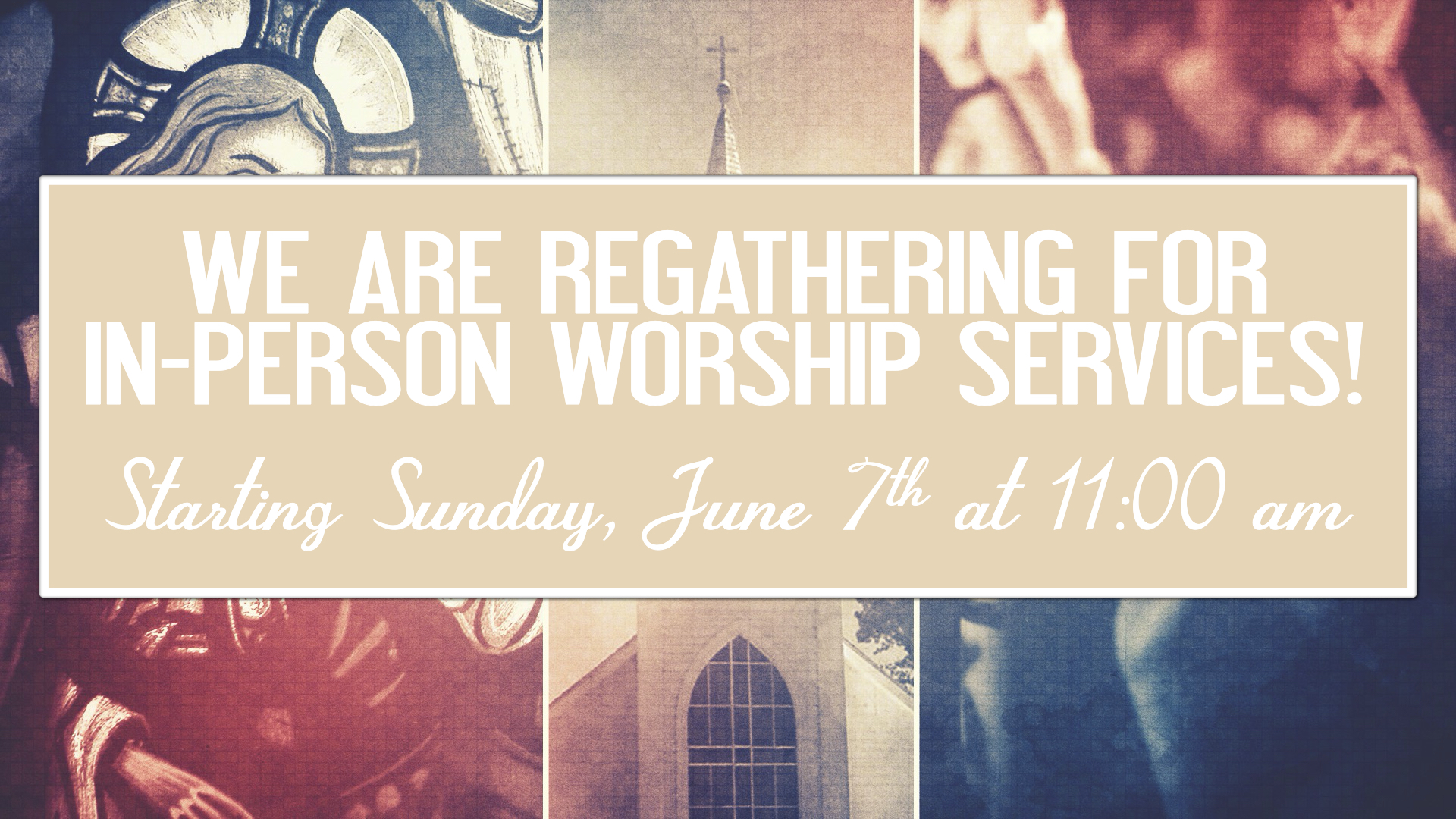 Here are our plans for regathering for in-person worship serviceS…
You'll notice signs as you approach the sanctuary that remind us to exercise "physical distancing" by keeping six feet of distance between you and other folks who do not live in the same household. This means, sadly, that we are encouraging everyone to refrain from handshakes and hugs. Signs will also remind us to thoroughly wash hands and/or make use of the hand sanitizing stations, to cough into your elbow and properly dispose of tissues in a trashcan.
Our greeters will be standing outside the sanctuary doors to welcome you in, point you to a hand sanitizing station and show you were you can pick up a face mask (if you did not bring one with you). These masks are reusable and are for you to keep. We are encouraging everyone to wear a mask during the worship service for the time being. The staff will do the same, only taking them off when on stage.
When you enter the sanctuary you'll notice that some pews are not available for use. They will be marked off with a white sign on the end of either side of the pew. You'll also notice that pews that are available will have a middle section marked off by a choir chair. These chairs can be moved to accommodate the group size. This is to help spread everyone out. Please sit only with those in your household and six feet apart from those who are not.
Larger families will want to come early to find seating in the middle pews. Smaller families, couples and individuals are asked to sit in the shorter pews on either side of the middle section, particularly toward the front or back of the sanctuary where the pews are shorter. If we run out of space there will be overflow seating in the Christian Life Center Fellowship Hall.
In order to limit the sharing of germs we will not pass the offering plate, we will limit singing, we will not have a traditional invitation and we ask that you use the restrooms and cry room only if absolutely necessary. If you do need to use these facilities, there will be sanitizing spray or wipes available for you to use once you're done. Please spray or wipe down all surfaces that you touched while in the facility (door handles, toilet lid/handle, faucet, changing table, etc.).
We will not be offering nursery or Kingdom Kids right now, but the Worship Service will be shorted to about 45 minutes.
Once the service is over everyone will be dismissed by section and row by one of our ushers. The center section of pews will exit through the foyer and the side sections will exit through the side exits. This will help us keep proper distance as we exit the building.
Lastly, if you are sick, been in contact with someone who was sick, are high risk or have serious pre-existing conditions please continue to worship with us online for the time being. Though those 65+ are considered "high risk" we are not dissuading them from attending unless they have other health issues that put them at risk. See the links on the right hand side of this page for more information on symptoms and high risk categories.