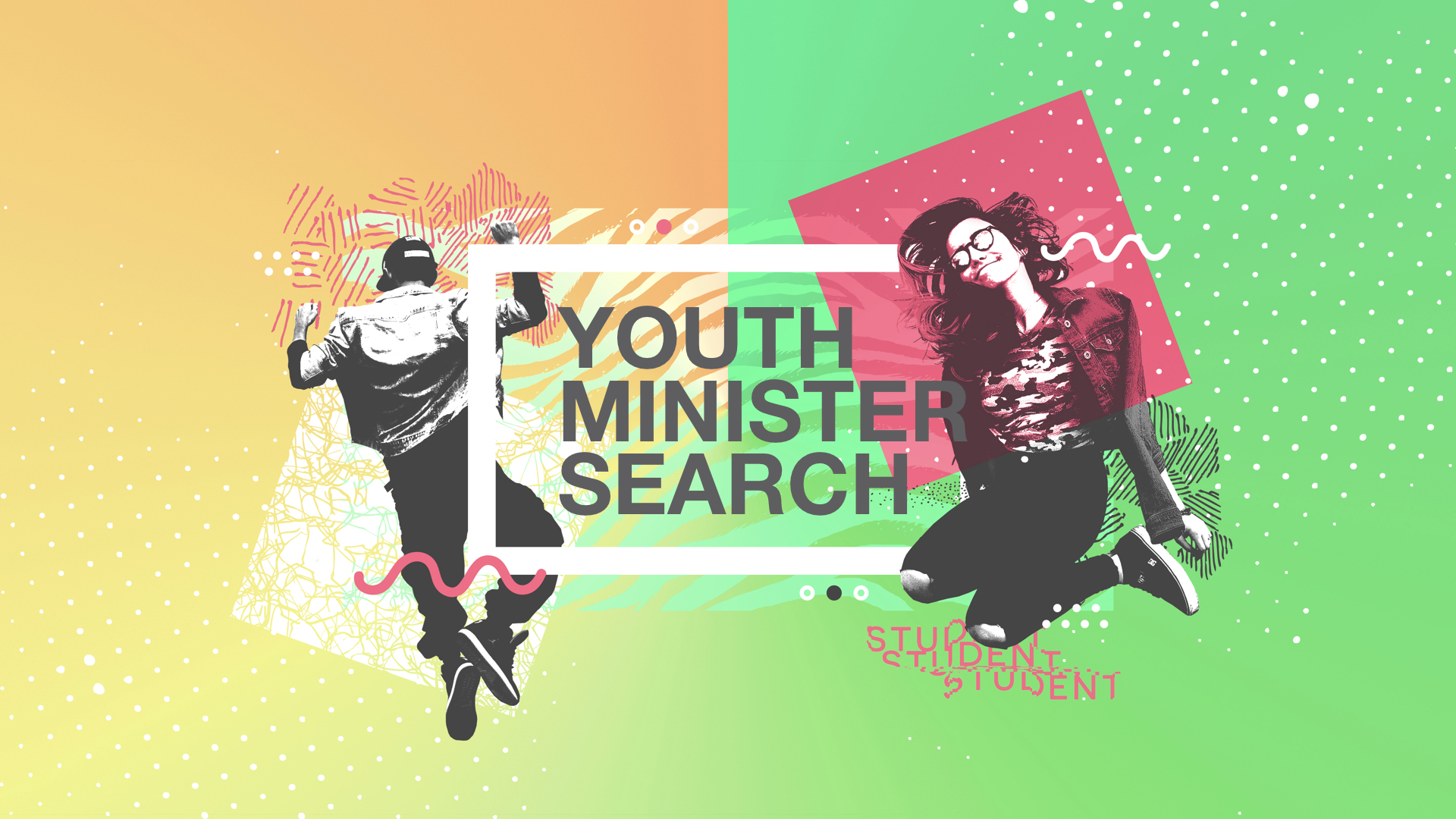 WE ARE RECEIVING RESUMES AT:
We are looking for a servant leader to partner with us in building a lasting student ministry that reaches teenagers with the gospel and develops them into mature followers of Christ. If you love Jesus, feel called to vocational ministry, are gifted by the Spirit to communicate God's Word, enjoy building relationships with teenagers and their families, and want to develop both adult and youth leaders/servants to take on ministry responsibilities, we invite you to apply for our open, full-time position of Youth Minister.
You may rise to the top of our list if you…
We may rise to the top of your list because…
you would join a hard-working, cohesive leadership team that enjoys fulfilling God's call to minister to the church, the community, and the world.

you would walk into a youth ministry that welcomes your vision, passion, commitment, empathy, grace, love and vulnerability.

you would be a part of a loving church family that is supportive of both children and youth.

you would be equipped with a strong budget that will help you build a successful Youth Ministry.

you would have a say in the complete renovation of our youth meeting space.

you would move into a small community (population: 3,400) with larger than expected amenities, soon to include an impressive new city park .

you would have health insurance, covered 100% by the church, plus 10% in retirement. Additionally, you would receive a stipend for a cell phone and have a budget for both books/ministry tools and conferences.

you would be fairly compensated, commensurate with your experience, and education.

you would receive financial help to move to our community.
youth committee update – 5/16/19
We reviewed the final group of resumes that we received for the deadline the previous day. We have questionnaires out and are working on setting up interviews. Summer schedule is a going to make things challenging, but our committee completed a helpful book and training elements.
youth committee update – 5/9/19
During this meeting we discussed interview questions we might ask candidates that continue on in the process. We also reviewed a few questionnaires that had been returned to us and we looked over a couple new resumes that had come in since our last meeting. It was a long, but productive meeting.
youth committee update – 4/28/19
We reviewed the resumes we have received thus far and narrowed our search down to a small group. You never know how the next steps of the process will pan out, but we are hopeful that our next Youth Minister is in this group of candidates. However, we will continue to receive resumes until May 15th and if any future resumes seem like a good fit, we will invite them into the process as well.
youth committee update – 4/14/19
The committee reviewed and made minor edits to the job description and made some decision on the job posting. We immediately went to work posting the position in several locations online and in Baptist publications. We will not meet next Sunday due to Easter, but will continue to communicate via e-mail and text to work on a questionnaire to send to candidates we would like to learn more about.
youth committee update – 4/7/19
We worked diligently on updating the job description, which will form the basis for a job posting. We reviewed several samples from other churches and used the "Character, Competency, Commitments, Chemistry" rubric to help us in our discussions. We hope to finalize it at our next meeting so we can put out the information and start receiving resumes.
youth committee update – 4/3/19
We met with the students and youth volunteers tonight to get their input on our next Youth Minister. They were passionate in their responses and seemed excited about having a full time minister, but also a bit nervous. They truly want to develop a strong bond with a minister and desire stability. It was a great discussion!
youth committee update – 3/31/19
In our committee meeting, we discussed the importance of having trust within our group so we can make the very best decisions regarding our search. We had an initial conversation about the job description. And we outlined questions we wanted to ask students, parents/guardians and youth volunteers in order to get their feedback on our next Youth Minister.
youth committee update – 3/24/19
We had our first meeting where we got to know each other and talked about the current state of the Youth Ministry. Committee members are: Dennis Duniven, Kevin Friesen, Tina Sczepanik, Travis Vickery and Daniel Ward. We also discussed a summer internship to help me, Pastor Matt, as we search for a Youth Minister. We ended by overviewing the entire search process.