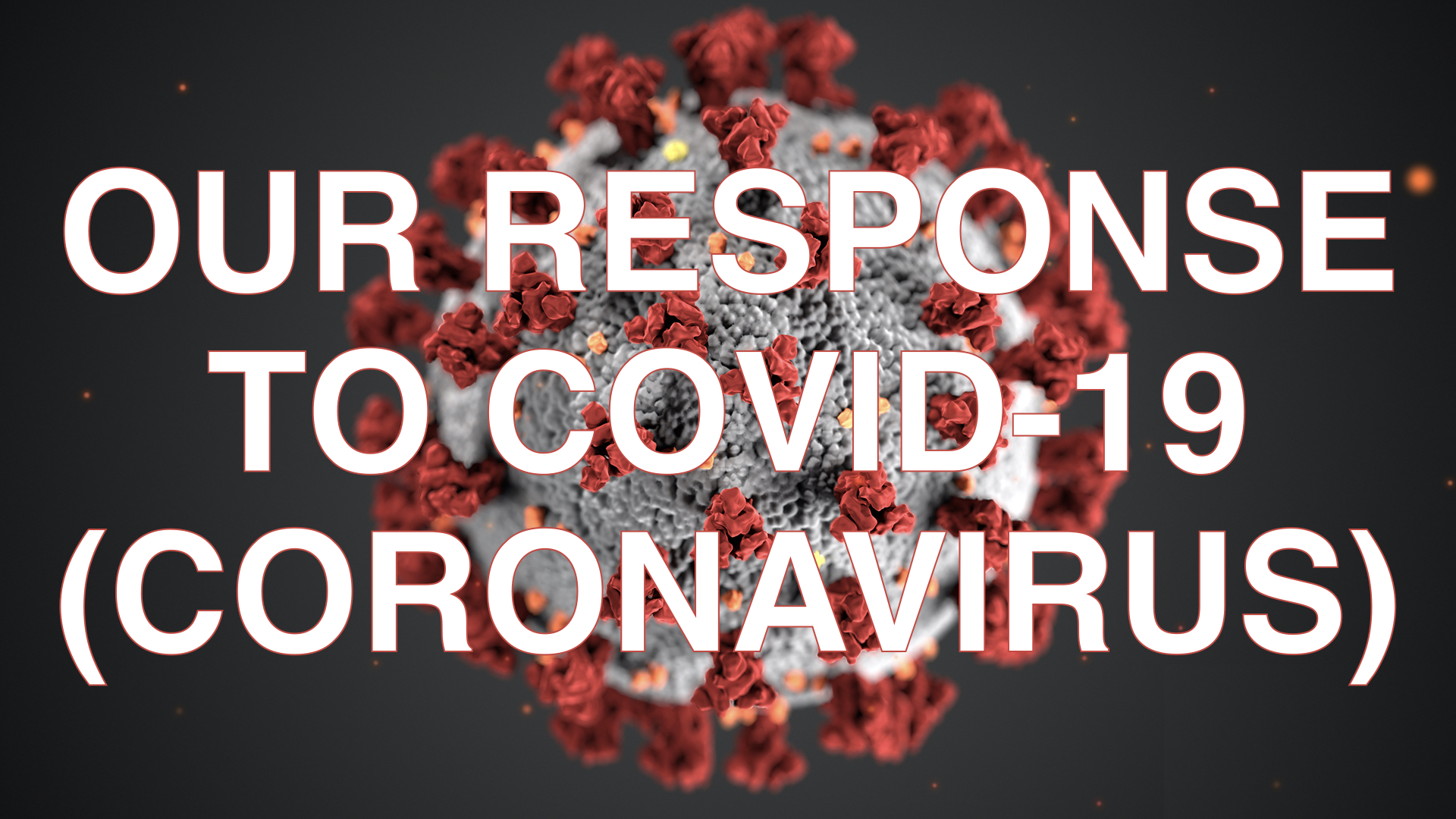 We have assembled a "CORONAVIRUS RESPONSE TEAM" who will meet regularly to discuss appropriate responses to the coronavirus (COVID-19) pandemic. We will continue to pray, discuss, and make decisions on church worship services, activities, and how to best care for each other and our fellow community members. We will post updates here.
UPDATE — 10/30/20
The Response Team met yesterday and talked a lot about what adjustments could be made as we enter into November. We did not all hold the same opinion, but it was a good back and forth that demonstrated care and concern for our church members and our guests. The decision was left to Pastor Matt who felt it was best to continue on the path we're on. Cases are rising around the nation, state and even in our own county and the precautions we are taking are good balance between being cautious and yet not overly restrictive.
MAJOR UPDATE — 9/24/20
The Response Team met today and discussed regathering for small groups, changes to the worship service, and ministries to our children and youth. The following changes will take place in October.
SUNDAY MORNING WORSHIP SERVICE
Masks still required for those 10 years old and up as they do provide some extra precaution

Chairs in pews removed, but social distancing still encouraged and every other pew will still be left empty

Kingdom Kids will return for kiddos 4 years old through 2nd graders

Order of service will be adjusted so that one song will be sung prior to sermon so that Kingdom Kids workers get to participate in more of the worship service

Services will remain 45-50 minutes in length.
SUNDAY MORNING SMALL GROUPS
Masks required for all adults and children who are in 3rd grade and up. The reason for having younger children wear masks in small groups when they don't in the worship service is because children will not be with family only and distancing will be more difficult in smaller rooms.

Some groups will meet outside, some inside, some groups will combine and where possible windows will be opened and where this isn't possible we will have HEPA air filter machines. More details on groups can be found HERE.
Our Children's Mid-Week Ministry will have monthly events and activities, but not weekly services. You can read more HERE.
Our Youth Ministry will be meeting weekly, but with some important adjustments. You can read more HERE.
Our Mid-Week Bible Study through Revelation will continue to be on FaceBook and previous studies and info can be found HERE.
UPDATE — 8/27/20
The Response Team met today and discussed returning to in-person small groups on campus in October. However, adult groups have been encouraged to meet as they feel comfortable, in group member's homes with masks or outside. Once we do regather, all groups will take proper precautions (to be outlined at a later date). Children, youth and adult groups are also encouraged to plan fellowship activities in September in preparation to a full return in October.
We also intend to restart our midweek ministries for children and youth in October. This will give us a chance to see how the start of school goes in regards to the spread of the virus. Again, when we do meet, precautions will be taken.
UPDATE — 8/13/20
The Response Team met today and feel that the current precautions we are taking should continue for the foreseeable future. Here's some information regarding a few of our ministries:
SUNDAY WORSHIP
We have added more singing to the service, but other than that, our service will continue as they have lately. You can read details HERE.
NURSERY/KINGDOM KIDS
We've begun offering nursery for up to 8 kiddos. Since children are not effected in the same way as adults and because we are utilizing our younger nursery workers, we felt it was safe to resume with a limited number of children in the nursery. Workers and children will have temp checks done before entering the nursery. The nursery will be cleaned and sterilized after use.
We are working on volunteers for Kingdom Kids and will let you know as soon as we work something out.
SMALL GROUPS
Adult small groups are welcome to meet in homes, but we won't be returning to meeting on campus for a little while longer. If groups do meet, they are, of course, encouraged to follow all the social distancing, mask wearing, and sanitizing guidelines. The reason we aren't doing a full return right now is because of our children's small groups. Keeping in mind that the data on the spread of the virus lags up to two weeks behind reporting, we wanted to let school resume and be in session for a few weeks before we went back to having all small groups on campus. And by hosting adult small groups elsewhere, particular for groups that meet outside, children could attend with parents in a lower risk setting.
MID-WEEK CHILDREN & YOUTH MINISTRIES
For reasons mentioned above, wanting to let school get under way before we restart, our mid-week ministries will likely begin around mid-to-late September.
MAJOR UPDATE — 7/28/20
The Response Team has decided that we will return to in-person worship on Sunday, August 9th at 11:00 a.m. in the sanctuary.
If you attended services after our last reopening, then you know we shortened the length of time we met for the worship service to about 45 minutes and the order of the service was adjusted as a precaution (singing less and at the end of service, spacing out seating, and dismissing by section and row).
We also encouraged hand sanitization and less frequent use of bathrooms and the cry room. All these precautions will remain in place and added to them will be the requirement that attendees wear masks,

however we will

follow Governor Abbott's exemptions for children who are younger than 10 years old and people who have a medical condition that prevents them from wearing a mask.
Also, we will have less volunteers (Greeters and Welcome Team Members) interacting with attenders. We want to mention this so that attenders understand that we aren't trying to be friendly or helpful, we're just trying to limit contact.
Additionally, the staff will be officing out of different parts of our campus so that in case we have a covid scare, we won't all have to go into quarantine, thereby putting our weekly ministry and worship service in jeopardy.
We hope to ease or remove these precautions as the daily case count diminishes.
It should be said that all who plan on attending are assuming the risks involved. Worshipping in an enclosed room while singing is a risk, even with masks on. However, we believe the risk is, on average, very low. 1% of Karnes County residents have contracted Covid-19, which closely mirrors state numbers. And the mortality rate in Texas is at about 1% of those who have contracted the virus.
So, the decision to attend is not risk-free, but nothing in life is. Each of us will need to consider our own risk factors and make our own decisions. For those who do not feel it is wise for them to attend in person at this time, they can continue to worship online. For the rest, we want to give the freedom to choose to attend if they are willing and able.
If you have any questions or concerns, please e-mail us at

church@fbckenedy.org

or give us a call at (830) 583-2539 during normal office hours.
God bless you, we love you, and we look forward to continuing to work together to serve our church and community!
UPDATE — 7/22/20
Our Response Team met on Tuesday, July 21st and discussed a return to in-person worship. We laid out several options and the pros and cons of each.

Most important, we earnestly prayed for God's leadership. Ultimately, though it was a helpful meeting, we sensed a lack of clarity in what God desires for us. So, we decided to commit ourselves to focused prayer and to meet again next week.

We also talked about doing another survey so that you can be a part of the discernment process. Please click HERE to share your thoughts.

You can look for another update next week, no earlier than Wednesday. Until then, please join us in prayer as we seek God's guidance for our church.
MAJOR UPDATE — 6/29/20
The Response Team discussed the current situation and feel it is best to continue doing only only for the rest of July. We will meet the middle to latter part of July to make a determination on August. FYI–Youth Camp, Kids/Family Retreat have both been canceled and we are monitoring the situation to make a decision on VBS (August 4-6).
MAJOR UPDATE — 6/27/20
The Response Team has decided that we will not meet for in-person worship the next two Sundays. Why? Because numbers are increasing at a pace we've yet to see with three more added in just the last 24 hours. We had already decided to cancel Youth Summer camp and will be making a determination on the Kids/Fam. Retreat soon.
You'll still be able to worship with us online at www.FBCKenedy.org/live-stream, directions to FB and our online platform which will no longer be tape delayed by a week.
The office will go back to having no foot traffic, but we will be open for your calls and staff will be going about our work Monday-Thursday from 8-4 pm.
No one wants to take a step back, but we want to be prudent, which is the exercise of cautious wisdom. The team and I certainly are aiming for that as many of you are as well.
We need each other during this time. Call someone. Small Group Leaders and Deacons, reach out to those you serve.
Lastly, we need God in times of uncertainty because He is certain. We we don't know what to expect, we can expect God to be in control. We we don't know what to trust, we can trust that He is wise and loving. When we don't know where to turn, we find God present to us 24/7. So reach out to him and remember that no matter the time or place, no matter the season, life is short, but eternity is long and because we've trust in Jesus we can look forward to a glorious future with him that will know of no pandemic, sadness, death and the like. There will simply be joy unending. For that we can give thanks, move forward in joy, and never lose hope.
Look forward to seeing you online tomorrow at 11:00 a.m.
UPDATE — 6/22/20
Our Response Team has met again to discuss Phase II of reopening. Due to recent cases cropping up in our county, we were conservative on the changes we'll be making in Phase II and we will continue to monitor the situation and make adjustments as necessary. That being said, in July we hope to make the following adjustments.
Resume Nursery on Sunday Mornings with temp checks for workers and kiddos and limit the number to 8 total in the room (2 workers and six little ones).

Invite Small Group Leaders to meet in their home if they would like to do so.

Plan summer activities with Youth and Children.
We will continue to shorten the Sunday worship service, space out our seating and encourage folks to wear masks. On mask wearing, I would encourage those who have not been wearing a mask to consider wearing one as they enter the sanctuary, then they could take it off once in their seat, and then put it back on if they leave their seat and for the last song and dismissal.
IMPORTANT UPDATE — 5/27/20
As we near our return to in-person worship services, we wanted to take this opportunity to clarify what we are saying and what we aren't saying about mask wearing
.
We ARE asking those serving on Sundays (and they know who they are: greeters, ushers, welcome team, security team, staff), who are interacting closely with attendees, to wear masks.
However, we're not saying

everyone

HAS TO wear a mask. Those who choose not to wear one will be shown the same love and respect that we intend to show each worship participant.
Lastly, I would say that it could be seen an act of love to take this precaution. We wear masks not to keep ourselves from getting sick, but so that we don't share our germs with others (keep in mind, one could have the virus and not know it).
QUICK UPDATE — 5/14/20
We've created a page on our website to share information about regathering for in-person worship

services on Sundays at 11:00 a.m. Check it out HERE.
IMPORTANT UPDATE — 5/11/20
Our Response Team met again on Thursday, May 7th at 2:00 p.m. to discuss resuming in-person Sunday Worship Services. We've since had follow up conversation about precautions we will be taking as we look to return
on Sunday, June 7th. Here they are…
Our greeters will be standing outside the sanctuary doors to welcome you in, point you to a hand sanitizing station and show you were you can pick up a face mask if you did not bring one with you. These masks are reusable and are for you to keep. We are encouraging everyone to wear one during the worship service for the time being. The staff will do the same, only taking them off when on stage.

When you enter the sanctuary you'll notice that some pews are not available for use. They will be marked off with a white sign on the end of either side of the pew. You'll also notice that pews that are available will have a middle section marked off by a choir chair. These chairs can be moved to accommodate the group size. This is to help spread everyone out. Please sit only with those in your household and six feet apart from those who are not.

Larger families will want to come early to find seating in the middle pews. Smaller families, couples and individuals are asked to sit in the shorter pews on either side of the middle section, particularly toward the front or back of the sanctuary where the pews are even shorter. If we run out of space there will be overflow seating in the Christian Life Center Fellowship Hall.

In order to limit the sharing of germs we will not pass the offering plate, we will limit singing, we will not have a traditional invitation and we ask that you use the restrooms and cry room only if absolutely necessary. If you do need to use these facilities, there will be sanitizing spray or wipes available for you to use once you're done. Please spray or wipe down all surfaces that you touched while in the facility (door handles, toilet lid/handle, faucet, changing table, etc.).

Once the service is over everyone will be dismissed by section and row by one of our ushers. This will help us keep proper distance as we exit the building.

Lastly, if you are sick, been in contact with someone who was sick, are high risk or have serious pre-existing conditions please continue to worship with us online for the time being.
That's all for now. Continue to check back here for updates!
UPDATE — 5/4/20
Here's a quick recap of Pastor Matt's update video from Monday, May 4th…
While we still need to make some final determinations for gathering for in-person worship on Sundays, here's my thinking thus far:
First, on location for the worship service. I think it is best to return to the sanctuary. Even if we return to our average attendance, we'd be at 50% capacity and that is the Governor's recommendation for communities that have experienced 5 or less cases (which describes us). And the time and energy spent on figuring our alternative meeting space can be put into other ministry opportunities (like what we've been doing by providing food for families in need, snack bags for school aged children, the Easter parade, the upcoming Mother's Day Gram and more). Plus this keeps us from having to make yet another transition down the road back into the sanctuary from meeting in the gym or outside. There are other reasons, but these are the main ones.

Second, on having multiple services. This could be done down the road if needed. For now we could set up the fellowship hall as an overflow space in case we hit capacity. I don't foresee this being an issue, but this way we'll be prepared. Then, if we have to continually use the overflow room we can simply expand to two services. Either way we'll need to recruit and train more volunteers.

Third, on temp checks. I'm still uncertain about this one. If there isn't a compelling reason to do it, I'd rather just remind people of the symptoms to look out for and encourage them to stay home if they are symptomatic. But, again, I would defer to our medical folks on this one.

Fourth, on streaming services online. We will continue streaming on FaceBook and on our online line platform (which will need to be tape delayed by a week like our radio broadcast). We are working on a plan to place a camera closer to the stage to improve the video quality. We'll need to work out kinks on the audio.

Fifth and finally, on procedures for services. There are multiple issues here.

1.) We're working on a plan to space folks out in the sanctuary. I think it would be helpful if we had ushers who knew the layout and could help folks find a seat.

2.) We need a few volunteers to help monitor bathroom use and cry room use and disinfect after those rooms are occupied.

3.) We won't have handouts (no bulletins, activity folders for children, passing offering plate, etc.)

4.) No nursery or Kingdom Kids for now and because of this we will shorten the service to about 45 minutes.

5.) Limit singing to three songs instead of the typical six.

6.) We will dismiss congregants by section and row.

7.) While I don't think we should require masks, we can simply ask folks to wear one and provide one for them if they do not have one. Staff's plan is to wear one until service begins and we're on stage. Then we'll put it back on when we're not on stage and/or after service.

8.) We still need greeters outside to welcome folks as they enter. They can ask them to use the hand sanitizer stations and point them to where they can pick up a mask if they need one.

9.) We'll also post the signs for social/physical distancing guidelines.
MAJOR UPDATE — 4/30/20
Our Response Team met on Thursday, April 30th at 1:30 p.m. to discuss resuming in-person Sunday Worship Services. For the time being, all other services and ministries will be online or on pause.
The time frame we discussed is to return to in-person Sunday Worship Services on Sunday, June 7th. There are several reasons for this date.
1. This would give us adequate time to figure out logistics, gather necessary supplies, develop safeguards and train volunteers.
2. This will also give residents another month to get used to being out in society again as our state has recently reopened non-essential businesses.
3. And by the first Sunday in June we will be beyond what is supposed to be the peak of the virus in the state of Texas.
For these reasons and more, we're hoping to provide a safe and meaningful worship service on Sunday, June 7th.
If you have any questions or concerns, please contact us! We miss you, love you and look forward to being together for in-person worship in the near future.
Let us ask ourselves "How might we Redeem this Pandemic?" In what ways do you sense God has been calling you to make some adjustments to your life? How might you partner with Him during this time to make those changes? Most importantly, we encourage you to build your relationship with God during this season. Our prayer is that we'll look back on these days with gratitude for the ways in which we were able to grow in God's grace. If you need help with the changes God is calling you to make or if you need help in developing your relationship with God, please let us know!

We now have a "GUEST FORM" on our website for those connecting to our church for the first time. If that's you, please check it out and let us know about yourself!
The staff will continue to provide updates, devotionals and studies on Monday through Thursday evenings at 6:30 p.m. on our FaceBook page.

Office hours remain the same this week: Monday–Thursday from 8:00-4:00 p.m.

Don't forget to give your tithes and offerings by mail, online, or by text. For more info, click HERE.
Office hours remain the same this week: Monday–Thursday from 8:00-4:00 p.m.

"Holy Week" devotionals will be posted on our FaceBook page, but you can click HERE to see the schedule.

The "Relationship Reset" study, led by Pastor Matt, will be on the FaceBook page this Wednesday at 6:30 p.m.

Don't forget to give your tithes and offerings by mail, online, or by text. For more info, click HERE.
Make sure to check out our FaceBook page for devotional videos from our Youth & Music Minister, Josh Czajkoski on Tuesday night at 6:30 p.m. and from our Children & Missions Minister, RoseMary Vickery, on Thursday night at 6:30 p.m. You'll also find on the FaceBook page
the "Relationship Reset" study on Wednesdays, also at 6:30 p.m., which is led by Pastor Matt.
Unfortunately, because of the current crisis we will not be meeting in person on Easter Sunday. BUT! We will be gathering for worship online as we have been these past few weeks. And leading up to Easter we will be posting devotional videos from our staff to help us think about the events that took place on what is called "Holy Week," the week leading up to the death and resurrection of Jesus.
Simply put, we're taking the situation seriously and we're prayerfully choosing our response to current and changing realities based on God's Wisdom, His Love, and the Courage He provides. Join us in this work! Reach out to your neighbor, your family, your classmates and co-workers. Give them a call, send them a text or email or FaceBook message and ask them how they are doing, how you can pray for them and maybe help them if they have a need. If you can't meet their need, give the church office a call and we'll do our best to help.
That's all for now! Please know the church staff loves you and continues to pray for you every week!
Had lots of good conversations today with our church leaders who are doing a fantastic job contacting

church

members! Way to go!

We will continue to care foreach other in this way. If you need contact, just give us a call at (830) 583 2539.
Couple of other things. One, we're going to put out more live content on our Facebook page and we're trying to find ways to deliver it in other ways. Josh (on Tuesday nights) and Rose (on Thursday nights) will have short videos for our children and youth.
Lastly, if you have non-perishable items that you will not be using, please let us know. We want to be able to provide food boxes for those in need.
That's all for now! Keep loving each other and serving our community!
I have failed to mention who is on our "Coronavirus Response Team" and why. So let me rectify that! In addition to the staff, I've invited the following folks to be on the team:
Dennis Duniven is the chair of the Deacon Body and their care and service in our church is important.

Bob Alexander is the chair of the Properties Committee, which has also taken on the role of safety/security in the church.

Larry Klien is the chair of the Personnel Committee and this situation is most certainly effecting the staff's work.

Lillian Vickery & Erin Fudge are both involved members and they both work in the medical field, so their expertise is a great help.

Ron Hyde is the Church Treasurer and this situation is most certainly going to impact our finances.
Our "Coronavirus Response Team" met this afternoon and decided the following…
1. We will continue live streaming the Wednesday Night Study on our Facebook page
.
2. We will also move our Sunday Morning Worship Service to Facebook Live through April 5th. The Response Team will meet later that week to talk about plans beyond this date.
3. Staff will continue to work regular hours, but the office won't be open for foot traffic. We will have the phones on and want to hear from you! Call us at (830) 583-2539.
4. Staff, Deacons, and Small Group Leaders have been asked to touch base with church members by phone over the next few weeks to check in on one another, pray for one another, and hear needs. If you do not get contacted, but want to check in with us, share prayer requests or needs, please contact us at the number above or email us at church@fbckenedy.org.
FOR WEDNESDAY, MARCH 18TH…
We will not gather this Wednesday night for children, youth, adult service, prayer meeting and choir rehearsal. The staff made this decision for two reasons. First, many schools, including Kenedy ISD, have elected to shut down this week and we want to join them in the effort to help slow the spread of the virus, though we do not yet have any confirmed cases of COVID-19 in our community or county. Second, kids are germ magnets and not all of them have been staying home. We didn't want them spreading germs amongst one another or to the other adults. Third, as far as the adults go, we cannot control who might show up here at the church and we have no way of knowing who they've been around. This exposure seemed unwise since both the prayer meeting and the adult bible study meet in smaller spaces.
PS–We realize that children are likely getting a bit antsy at home so we want to remind our church family and friends that we have a subscription to a video streaming service that has tons of kids content. If you email us at church@fbckenedy.org us we will add you to this service (called RightNow Media) at no cost.
PSS–The "Coronavirus Response Team" will meet Thursday afternoon to make a determination about Sunday services and will let you know what we decide.
Your prayers and support mean so very much to us. And don't forget, if you have a need or are concerned about the needs of a friend or family member and are unable to meet them, please contact the church staff and we'll do our best to help out.
1. We WILL join together for the Morning Worship Service at the normal time, 11:00 a.m. and we WILL provide both Nursery and Kingdom Kids (click HERE for more info). We made this decision for two reasons. First, there are no known cases of the virus in our community and second, people are in need of gathering for worship during this uncertain time.
2. We WILL NOT meet in Small Groups prior to the Morning Worship Service. We made this decision because we were concerned about the many older folks in our church who serve in this ministry or attend groups. At this time we felt it would have been too complex to figure out who would be here and who wouldn't and what to do with groups that didn't not have leadership. So, our Small Groups will not be meeting this Sunday
3. We WILL NOT have the scheduled Potluck Lunch, but we WILL HAVE a brief Business Meeting after the Morning Worship Service in the Sanctuary. This decision was made because of concerns about spreading germs while serving the food buffet style.
4. We are waiting until Tuesday to decide whether or not we will have our normal Wednesday Night Live services and Prayer Meeting. Please check back here or on our Facebook page for updates.
WISDOM—We want to be WISE in how we respond to this situation, which means we do not want to anxiously react and we do not want to bury our heads in the sand. Another way to say it is "A prudent person foresees danger and takes precautions. The simpleton goes blindly on and suffers the consequences." (Proverbs 27:12)
LOVE—We want our actions and responses to be guided by LOVE for one another. While I might not be at risk of getting sick, and if I do I might be able to bounce back easily, there are those in our church and community that would not be so fortunate. We also want to be thinking and praying about how to love our community, not only by taking the proper precautions so as to not spread illness, but also to serve those in need during this challenging time. Love demands sacrifice, as shown to us by Jesus. 1 John 3:16 explains, "This is how we know what love is: Jesus Christ laid down his life for us. And we ought to lay down our lives for our brothers and sisters."
COURAGE—Because God is in charge of history we can be COURAGEOUS. This means we can choose the right actions and responses even when emotions, like fear or panic, might rise up in us and those around us. Josh Czajkoski reminded us of a verse in Scripture that sums all this up perfectly: "For God has not given us a spirit of fear and timidity, but of power, love, and self-discipline." (2 Timothy 1:7)
When we gather for worship services or other activities and events, please consider the following…
Thoroughly wash your hands and/or make use of the sanitizing stations (found in the foyer of Sanctuary and Education Building) before and after the services/activities/event.

Exercise "social distancing" by keeping six feet of distance between you and others. This means we will avoid handshakes, hugs and we can spread out in meeting spaces.

Cough into your elbow and properly dispose of used tissues in trashcans.

We will not pass the offering plate during the Worship Services in the Sanctuary so we encourage everyone to utilize the offering boxes near the foyer doors to drop off your Connection Card and financial contributions.
If you are sick, been in contact with someone who is sick or you are at a high risk of getting the virus you should not attend church related services, events and activities.